Blooming
Fertilizing, watering, and temperature control play a major part in the successful reblooming of your orchid. Learn more about how you can encourage your plant to flower.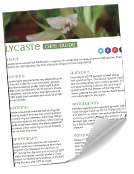 Resource Download
Lycaste Care Cheat Sheet
Learn how to care for your Lycaste orchid with this quick and easy care guide.
Learn More

Ask an Expert
Questions about orchids?
Our experts love a challenge!