Care and Culture
Understanding what growing conditions your specific type of orchid prefers is key to its success. Here you will find information on light requirement, water frequency, temperature, humidity, and more.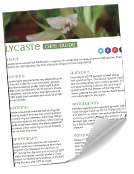 Resource Download
Lycaste Care Cheat Sheet
Learn how to care for your Lycaste orchid with this quick and easy care guide.
Learn More

Ask an Expert
Questions about orchids?
Our experts love a challenge!