Growing Outdoors
Orchids add exotic and elegant beauty to an outdoor landscape. Learn how to properly select and care for your outdoor orchid.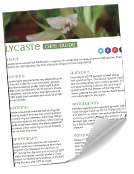 Resource Download
Lycaste Care Cheat Sheet
Learn how to care for your Lycaste orchid with this quick and easy care guide.
Learn More

Ask an Expert
Questions about orchids?
Our experts love a challenge!