Lycaste Care Cheat Sheet
Learn how to care for your Lycaste orchid with this quick and easy care guide.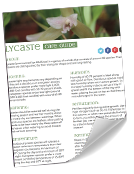 Lycaste (pronounced lye-KASS-tee) is a genus of orchids that consists of around 30 special. Their flowers are distinguished by their triangular shape and are long-lasting.
This informational guide will give you some quick tips on the following Lycaste requirements:
Lighting
Watering
Temperature
Humidity
Fertilization
and Potting
Just fill out the quick form to the right and enjoy your free copy today!
Fill out the form for your free copy of
Lycaste Care Cheat Sheet.
Providing this information helps us as we create new resource materials! Thank you!