Easy Orchid Plants – Paphiopedilum Hirsutissimum
Author: admin1 Comment
Blooming, Care and Culture, Classification, Growing Indoors
I define "easy" orchids as those that can be grown indoors in mild climates in homes that have the heating on during the daytime in winter.
An old favorite, this orchid was first imported from its native India in 1857. Since that time it has remained very popular for its ease of growing and free-flowering habit. The blooms, which last for eight weeks over the winter, are large and attractively colored. The broad, pink-tipped petals are held horizontally to the small, heavily peppered dorsal petal and pouch. The stem of this species is hairy, which gives rise to the name hirsutissimum. The plant thrives in cool conditions, and will grow to a good size over a number of years.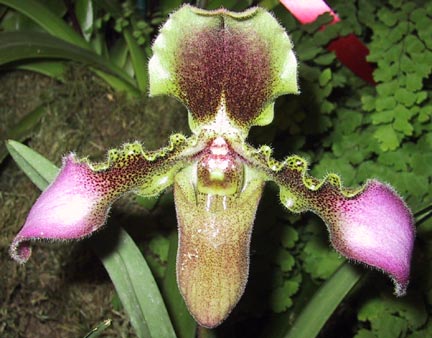 Flower Size: 5 inches (12cm) across
Flower Spike: 9 inches (23cm)
Plant Height: 6 inches (15cm)
Pot Size: 5 inches (12cm)


Ask an Expert
Questions about orchids?
Our experts love a challenge!