Easy Orchids – Paphiopedilum Maudiae
Author: adminNo Comments
Blooming, Care and Culture, Classification, Growing Indoors
I define "easy" orchids as those that can be grown indoors in mild climates in homes that have the heating on during the daytime in winter.
This delightful hybrid exhibits the clear, clean lines that have made it a classic among the green-flowered slipper orchids. Raised in Britain in 1900 from two green varieties of species (P. callosum and P. lawrenceanum) from Thailand and Borneo, the result has stood the test of time and is as popular today as ever. The blooms will last for two months and generally appear during the fall and early winter. The plant has attractive mottled green foliage, with rounded-oval leaves. At one time, along with many other similar varieties, it was grown extensively for the cut-flower trade but now it has become more popular as a houseplant. Grow in a shady room, out of direct sunlight and in intermediate temperatures.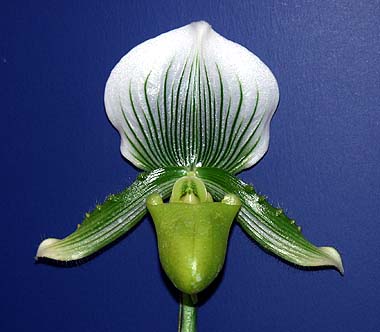 Flower Size: 4 inches (10cm) across
Flower Spike: 1 foot (30cm)
Plant Spread: 10 inches (25cm)
Pot Size: 4 inches (10cm)


Ask an Expert
Questions about orchids?
Our experts love a challenge!