Easy Orchid – Phragmipedium Patti MacHale
Author: adminNo Comments
Blooming, Care and Culture, Classification, Growing Indoors
I define "easy" orchids as those that can be grown indoors in mild climates in homes that have the heating on during the daytime in winter.
This slipper orchid is a 1950's American hybrid. It is also known as the mandarin orchid, for its long, slanting petals. A handsome flower, it has received much attention and renewed interest recently. While some phragmipediums can become extremely tall, with flower spikes up to 40 inches (1m long), P. patti MacHale is more compact, making it easy to accommodate as a houseplant. It has an extended flowering period, producing one flower at a time in sequence for almost a year. The plant has tufted growths, lacking pseudobulbs. It will grow easily in intermediate temperatures, and should be kept moist all year round.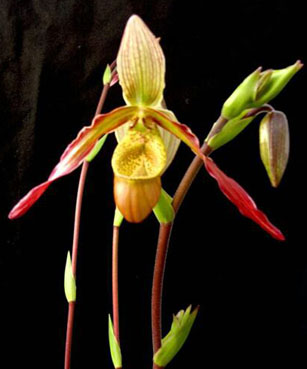 Flower Size: 4 inches (10cm) across
Flower Spike: 1 1/2-2 feet (45-60cm)
Plant Height: 9 inches (23cm)
Pot Size: 4-6 inches (10-15cm)


Ask an Expert
Questions about orchids?
Our experts love a challenge!