Easy Orchids – Paphiopedilum Leeanum
Author: adminNo Comments
Blooming, Care and Culture, Classification, Growing Indoors
I define "easy" orchids as those that can be grown indoors in mild climates in homes that have the heating on during the daytime in winter.
This plant is an orchid classic – a very old primary hybrid raised in Britain in 1884, when the first hybrids were appearing among the orchids. From the start, these handsome slipper orchids were in the forefront of his new hybridizing and were among the most popular with the (mostly gentlemen) growers of that time. The parents of this lovely hybrid are P. insigne and P. spicerianum, two of the most popular orchids of their time, and even today they are both considered to be collectibles. Once extremely plentiful, they are now rare in collections, as is the hybrid from them. This plant exhibits all the grace and classic lines of the species. It should be grown in cool, shady conditions and blooms in the winter. The single blooms will last for eight weeks or more.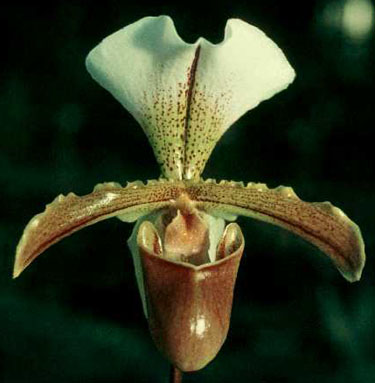 Flower Size: 3 inches (8cm) across
Flower Spike: 9 inches (23cm)
Plant Height: 6 inches (15cm)
Pot Size: 5 inches (12cm)


Ask an Expert
Questions about orchids?
Our experts love a challenge!