Easy Orchids – Coelogyne Flaccida
Author: admin1 Comment
Blooming, Care and Culture, Classification, Growing Indoors
I define "easy" orchids as those that can be grown indoors in mild climates in homes that have the heating on during the daytime in winter.
This is an exquisite species, introduced from the east Himalayas and described by John Lindley in 1830. It has cone-shaped pseudobulbs each with a pair of hard, stiffly held green leaves. The pendent flower spikes emerge from the base of the mature pseudobulbs in early spring. The flowers (up to six to eight per spike) are a pale buff-cream with delicate lip markings in yellow. They are strongly fragrant and will last for two to three weeks in perfection. This is an easy plant to grow provided it is given a rest in cool conditions in winter while it remains dormant.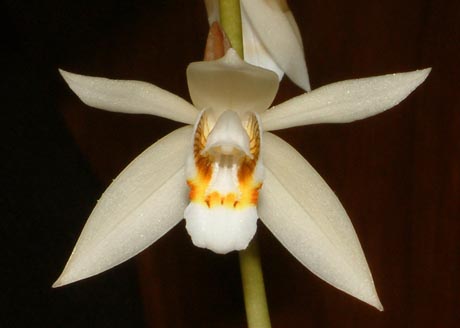 Flower Size: 1 1/2 inches (4cm) across
Flower Spike: 8 inches (20cm)
Plant Height: 10 inches (25cm)
Pot Size: 3 inches (8cm)


Ask an Expert
Questions about orchids?
Our experts love a challenge!