Easy Orchids – Dendrobium Nobile Var. Albiflorum
Author: adminNo Comments
Blooming, Care and Culture, Classification, Growing Indoors
I define "easy" orchids as those that can be grown indoors in mild climates in homes that have the heating on during the daytime in winter.
This species was introduced into cultivation in 1830 from its native home (which stretches form South China across India to Thailand) where it grows on trees as a epiphyte. Under these conditions it receives plenty of rain during the monsoon season, followed by a period of drought during which the plant becomes dormant. In cultivation it grows best in a cool position, with full light during the winter. This will initiate the flower buds, which form along the mature canes in early spring. This plant is a highly collectable semi-alba form of D. nobile. It lacks the light mauve-pink coloring of the type, and is one of a number of recognized color forms from a species that has contributed a great deal to the modern hybrids that now abound.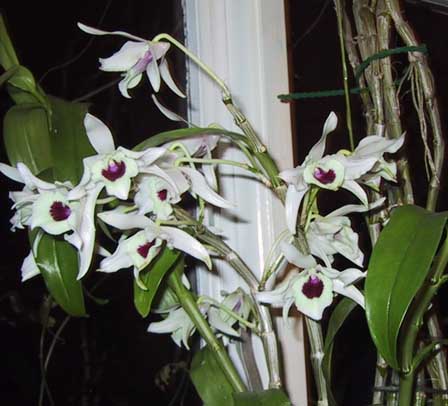 Flower Size: 3 inches (8cm) across
Flower Spike: None
Plant Height: 1 1/2 feet (45cm)
Pot Size: 4 inches (10cm)


Ask an Expert
Questions about orchids?
Our experts love a challenge!