Popular Orchid Flower – Brassia
Author: adminNo Comments
Blooming, Care and Culture, Classification
It is not difficult to see why B. verrucosa is called the Spider Orchid. The thread-like petals and sepals give it a most unusual appearance for an orchid, and yet it is one of the easiest to grow!
The 4in (10cm) wide pale green flowers are born on graceful sprays; the aroma is either sweet or unpleasant, depending on personal taste. Flowering begins in the late spring, and there should be a period of rest when the blooming period is over; give less water until growth restarts. It will thrive at ordinary room temperatures and it can be kept cool in the winter; minimum 50 degrees F (10 degrees C). Place the pot in a bright spot away from direct sunlight. A number of hybrids of Brassia are available.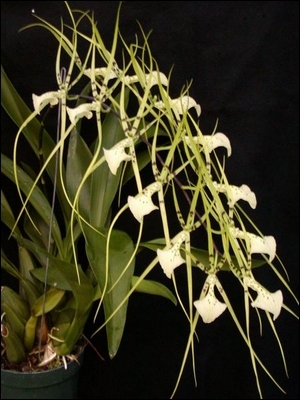 B. verrucosa pictured.


Ask an Expert
Questions about orchids?
Our experts love a challenge!