Zygopetalum Orchid Care and Culture
Author: adminNo Comments
Blooming, Care and Culture, Classification
Zygopetalum is not one of the popular groups of orchids so don't expect to find it at your local garden center or DIY superstore!
It is, however, worth looking for if you are building up a varied collection as it has a heavy fragrance and the flower lip has unusual violet-colored stripes. The petals and sepals are green with large brown blotches. They are generally large plants with flower spikes reaching a height of 18-24in (45-60cm). The flowers usually appear in winter and last for about a month. Do not mist the leaves; use some other method for creating light humidity around the plant. For guidance on temperature, water, and light requirements see the rules for Cymbidium Orchids!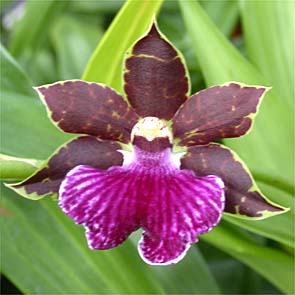 Zygopetalum Artur Elle pictured.


Ask an Expert
Questions about orchids?
Our experts love a challenge!