Basic Orchid Care Video
Author: admin1 Comment
This video demonstrates basic orchid flower care from potting mix to watering instructions.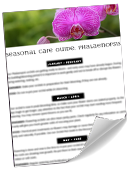 Resource Download
Orchid Seasonal Care Guide: Phalaenopsis
Learn what you should and shouldn't be doing to care for your Phalaenopsis orchid throughout the year.
Learn More

Ask an Expert
Questions about orchids?
Our experts love a challenge!