Basic Orchid Care Video
Author: Taber1 Comment
This video demonstrates basic orchid flower care from potting mix to watering instructions.
One Response to "Basic Orchid Care Video"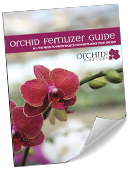 Resource Download
Orchid Fertilizer: A Quick Guide
What should I use? How often should I use it? And how much should I apply?
Learn More

Ask an Expert
Questions about orchids?
Our experts love a challenge!